Joined

Aug 27, 2011
Messages

2,818
Reaction score

1,214
I've been gassing for something a little pointier the past few months and I came across this at the pawn shop the other day at a price that was easy enough to swallow: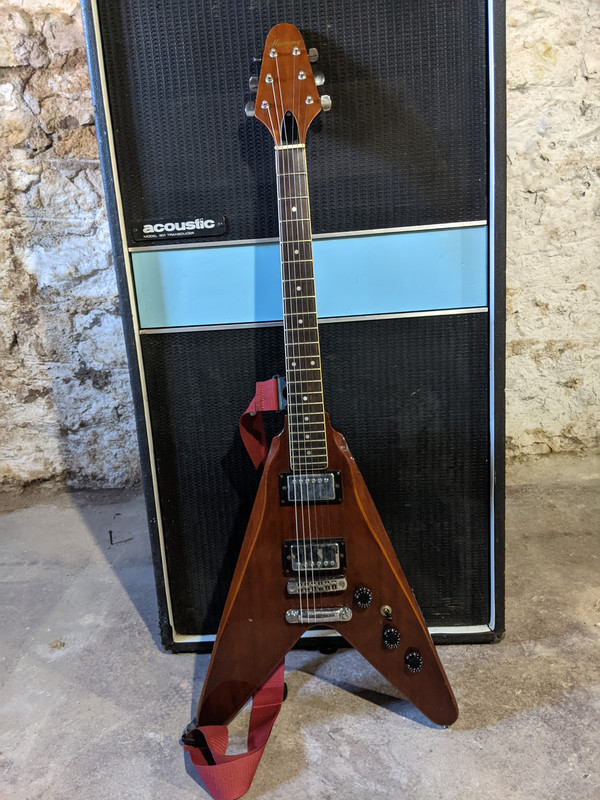 From the research I've done I'm pretty sure this is a 70's - possibly MiJ - Harmony copy of a flying V that was most likely sold by Sears, JCPenney, etc., probably for an MSRP of ~$300.
It has some issues (mostly the slot for the low E on the nut was cut to deep and the previous owner stuck a tiny folded piece of paper in the slot to compensate), but other than that it actually plays pretty well, even without a proper set up. This guitar is basically the opposite of my other main players (92' rg570 and '79 peavey T60) and I'm usually not a fan of ToM style bridges or 24.75" scale length guitars, and compared to my RG and T60 the neck on this is definitely what I'd call a "thick C", but despite all of that I still have a lot of fun playing it.
It actually plays well enough that I'll probably throw some time and money into it to make it a respectable guitar: brass nut (period correct mod & I'm a fan of the tone it gives even if modern materials are "better"), replace the electronics and pickups and depending on how bad the tuners end up being I might upgrade those as well. The truss rod seems to function as it should, the neck is straight (2 piece neck so that doesn't surprise me), and the frets look like they have plenty of life left. If it weren't for the fact that it has a 2 piece pancake body (possibly chipboard, but Its hard to tell without doing some disassembly) and sub par hardware I'd say it could pass for something much nicer than what it actually is. Hopefully if I get some clear skies in the next couple days I can get some better pics because the dark natural "faux mahogany/walnut" finish is actually really stunning and worth showing off.