Long post ahead. If you have a sweet spot for semi-sentimental rare find stories, read through. If not... scroll down to the TLDR
Story time!
Around 15 years ago, I was thinking about buying a 6 strings to get me out of a 7 stringed rut. Looking around, I lusted over one particular guitar that was
completely
out of my price range. So I tried different things, ended up hesitating between an Ibanez SZ520 and a Yamaha RGXA2. Bought the SZ (a great guitar, sold it really recently, and actually bought an RGX last year - freaking great guitar... and paid 90€ for it. But that's another story).
Fast forward to today. I sit in a comfortable place in life, just turn 40 -yay me-, 2 kids, a place of my own... but fuck it I still don't have a quality 6 strings. Just stuff to mess around with. So I go, like we all do, on a hunt. Strong of my guitar playing experience I know what I want. Fixed bridge. 25.5 scale. Super strat style, H/H, HSH or HS. Let's go.
Hey, what about that guitar from 15 years ago? Beh, rare as hell in Europe it seems, won't ever find one in a good enough condition, the hardware is hard to maintain. The "newer" version don't appeal to me as much.
Keep on looking.
And then I find what I never thought I would. I can't believe it. I contact the shop to check, place the order, it's on its way.
The parcel gets lost over Christmas. Disbelief. 2 weeks pass, I lose hope, faith, I go through the 7 stages of grief.
Until I get a text.
"The parcel has been delivered".
You wouldn't believe how fast I ran home, to find this: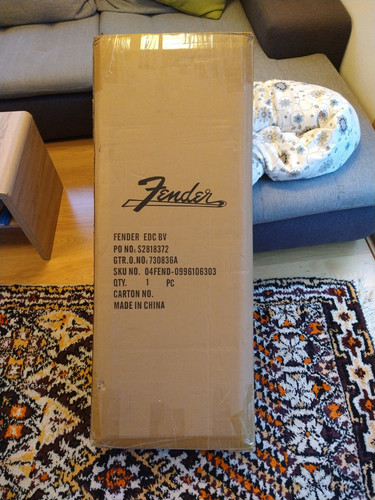 No, I don't have a nice knife so no knife pics, sorry. But a semi unboxing experience, I couldn't take pictures, I was shaking so much.
Wait I didn't get a Fender...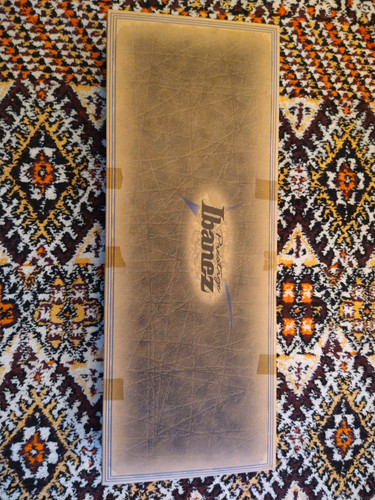 Much better.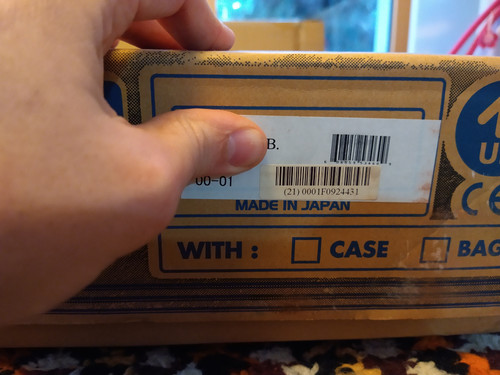 Is this... a carboard box...
UNOPENED... from 2009
?
YOU BET IT IS BABY
AND WHAT IS INSIDE? YOU BET! MY LONG LOST BABY FROM 15 YEARS AGO! She waited for me, in her box, as long as I waited for her...
Now for the grand reveal...
Hold on to your horses...
Probably the only one "new, untouched and still sealed" left in the world...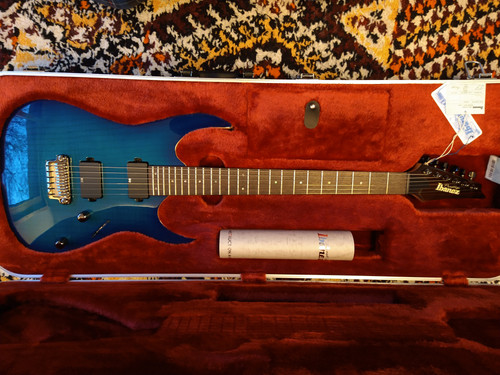 Brand new, untouched, Ibanez RGA321-SPB from 2009.
Still has all the foil, not a single scratch or even finger print on it, so definitely not a showroom guitar. Even the case has the foil on the metal part. I believe it was opened once to check it was the actual model described on the box, since one tape was cut. Couldn't tell.
These pictures now are taken after 1 week of play (fuck Cosmo Black
).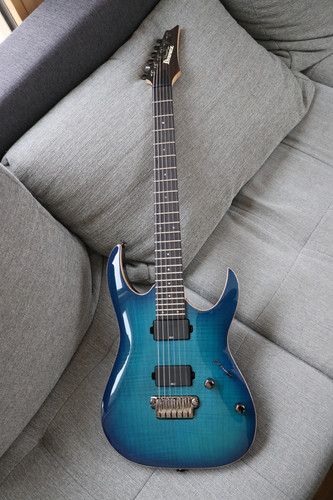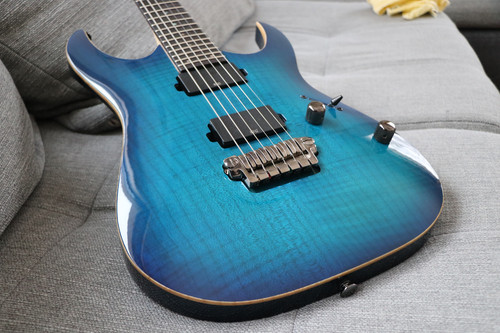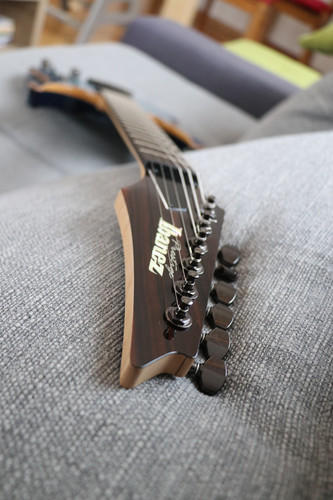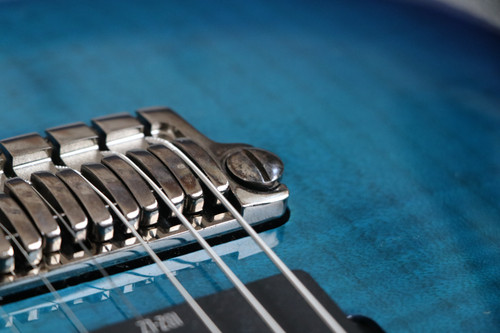 (Haha Cosmo Black + my hands...)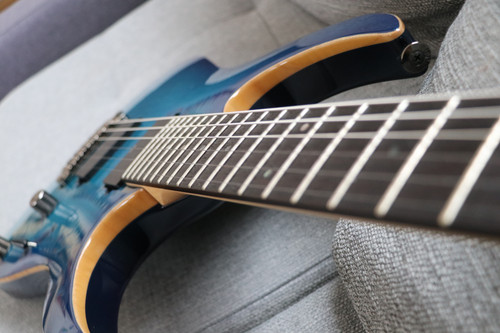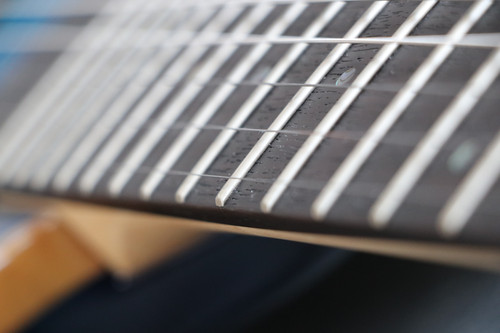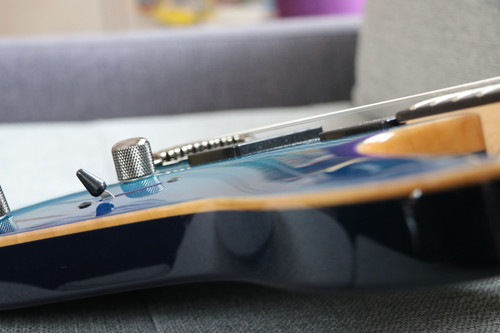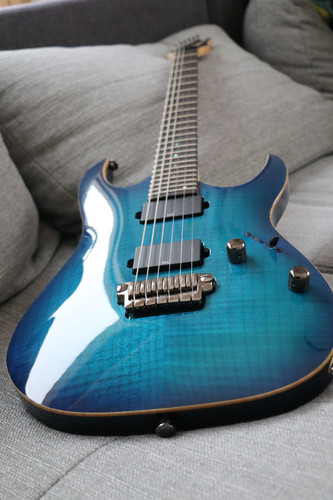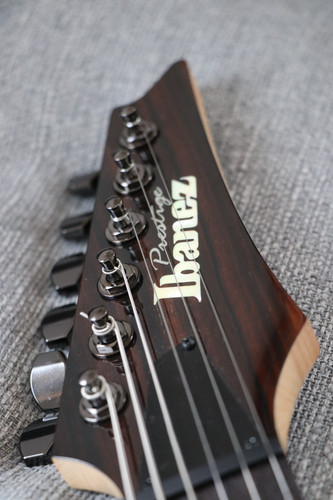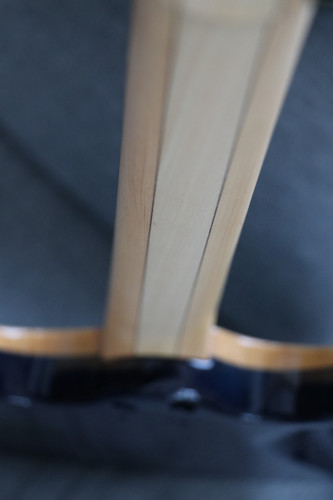 It's snowing outside... as I can see from the flawless reflection on her butt.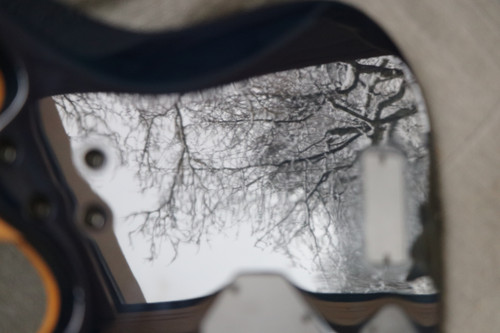 Overall, I still can't believe it. Before anyone asks - I paid 1290€ all included for it. In Europe, those originally retailed for close to 2000€ 15 years ago, and a good one on the used market is 1300€ upwards.
After having played with it for a week, I'll try to be transparent on what I think of the guitar.
I am old enough to realize that while the overall feel of the guitar is outstanding (it feels from day one like the shoes you've been running in your whole life) it is not a perfect model. Sure, the finish is perfect - not a single flaw. The guitar resonates like crazy, playing it is like having your cell phone ringing in your hand. With this though, comes some very pronounced resonance peaks that somehow takes some vibrations away from the string - the neck and strings resonate on a few spots a bit "out of phase" so the sustain is slightly reduced compared to the neighbouring frets (nothing to do with fretting out, changing the tuning changes the spot). Mind you, how this is behaving is shifting everyday so I am still thinking it might have to do with opening a 15 year old guitar, getting "the body to meet the neck" and breaking it in. I had that on other guitars and it went away. There is one fret that might be slightly high with my ridiculously low action (ie I fret out a 3 semitone bend on one spot of the guitar with a 1mm action). So yeah, the guitar is not perfect. But each time I strum it, it puts a smile on my face. The rest is details, that might - or might not, who knows - get fixed in the future.
The other minor annoyance is that whoever graded this top as AAA flame stuttered for sure. It barely qualifies for AA. On a good day. To a blind coworker.
The rest is stuff I knew or am already planning on changing.
- The bridge is ultra comfortable but whoever designed it forgot that gauges above 50 exist and that intonation requires more than 2mm travel. 1st is fixed by filing the bridge slightly, the other by cutting the retention string of the saddle. No biggie.
- Same remarks to the Nut guy. Ok, back then 9-42 was the norm but who files a nut so thin seriously.
- What are those pickups? What are their goal in life? They sound and feel like low output pickups pretending they are high output? Clean, they break up ultra easily. Overdriven, they make me turn up the gain however I pick. It's like they can't decide what they should be. They sound pretty good overall but are not really dynamic and not versatile. They have to go, and since the guitar is router for a battery, I think a Fishman set is coming in.
- It's a "pre 2015" high end guitar. Workmanship is there but the shift toward higher quality hardware hadn't been made yet. Nickel frets (no biggie), plastic nut (what the fuck), non-locking tuners (still Gotoh but that's max 20€ saved on a 2000€ instrument!), and Ibanez was still convinced they had good pickups (haha).
All in all? Not a perfect guitar. But a perfect buy that puts a smile on my face each time I pick it up.
Plus I can say I got the last new RGA 321 in the world. Bitches.
TLDR: Found a new old stock -as in never played, never opened - RGA 321 hidden in an italian shop after dreaming about this guitar for 15 years, pulled the trigger instantly, came on the case already, cleaned it up, took pictures, found a new purpose in life.