Joined

Sep 11, 2011
Messages

1,685
Reaction score

1,288
Location
New cab day, pics first: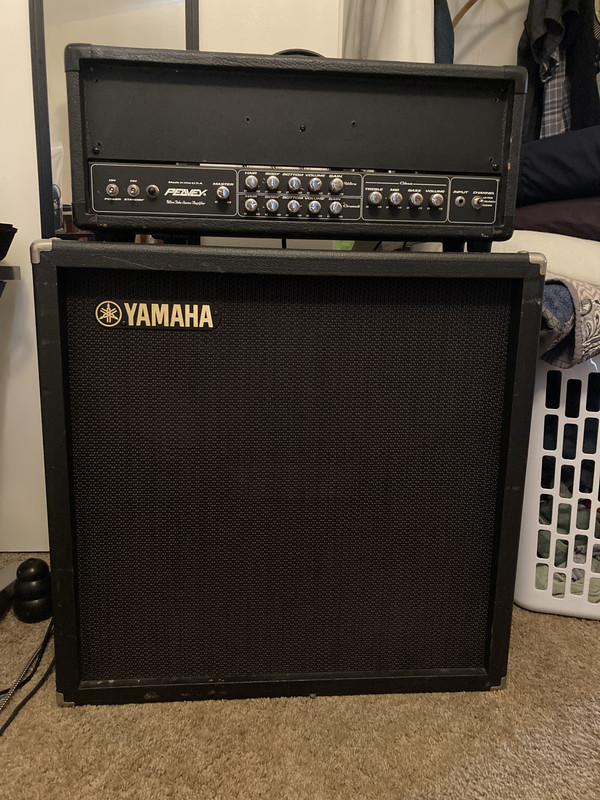 It's a Yamaha S412V. Never in my life had I thought a Yamaha 4x12 be in my future, but after months of watching guitar center's used selection of cabs online, I saw this for $220, looked it up and it came stock with UK V30's. I had no idea what the construction would be like, but for that price I could gamble and buy an unloaded cab or build one later and use the speakers. If they weren't the original speakers, it was going back via local gc return.
Or so I thought.
It was delivered, and the first night I had it, I popped it open. What I found was two UK V30's and two Peavey OEM speakers that I thought would be junk.
Wrong again.
They are 1970's Peavey/CTS speakers from an original Super Festival 4x12.
A little history on these, they were produced in the same factory in Kentucky that Eminence later bought from CTS.
They have a unique mesh center dust cap, 38oz ferrite magnet and 125w power handling.
As far as sound, they are fairly smooth sounding speakers, not scooped but with a really nice round midrange, very prominent tight low end, and a tapered off but pleasant sounding high end.
Paired with the V30's, this and my triple XXX are thrash or 90's death metal city, and that's with a single coil bridge pickup (I think of
@Gmork
every time I play through this set up).
Prematurely, I ordered a bogner/line 6 spider valve OS 4x12 with confirmed V30's to replace this cab upon finding non-original speakers before looking them up or playing through them. The wife was kind enough to inform me that if I like both, I can keep both as long as I treat her to a pair of decorative laundry hampers. SOLD!! Haha.
This should be an interesting gear week for me, stay tuned for more.